Home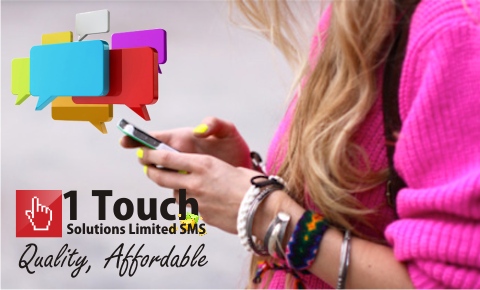 1Touch - Solutions Ltd owner of 1touchbulksms.com is an Information technology brand, which has sprung up to take the world to its next phase in information dissemination. We offer Bulk SMS messaging services, which is very suitable for Resumption Alerts, Meeting Alerts, Wedding/Birthday invitation, Sales/Event Promotion, Creating brand awareness and Special season's greetings.
We are Nigeria most reliable web based sms service that can deliver SMS messages to any Mobile network globally. Our bulk SMS gateway is finely tuned to deliver the fastest and most reliable SMS messaging compared with other Bulk SMS Providers. Send bulk text via our web interface . Give us a call and we can get you started with specialist advice and great SMS marketing ideas for you and your clients. 
There is a wide variety of quality when it comes to Bulk SMS Service and SMS providers. When sending messages with our SMS Portal you can be confident that your messages will be delivered instantly. Our SMS platform has a wide variety of features, which is the simplest, fastest, cheapest and most reliable way to send customized bulk text messages to literally millions of DND or NON-DND GSM numbers in Nigeria. 
Our user friendly SMS Portal i.e. www.1touchbulksms.com or onetouchsms.com, which makes it easy to reach a target audience with your message(s). We take care of SMS traffic for individuals, large corporations and small to medium-sized businesses.
Contact us for more details...
Our Scratch Cards
Denomination: N200, N500, N1000, N2000, N5000.
Available with our Resellers @ Unilag, Lasu, Yabatech, Laspotech, Luth, Iyanapaja, Mafolukun, Gbagada, Afariogun, Ikotun etc.
How to Load:
Step 1:Register and get 4 free SMS   
Step 2:Under SMS MENU, click "SMS voucher"
Step 3:Scratch off covered area to reveal 10 character PIN
  1tsd7gb8uz
Step 4:Enter PIN, then click "Submit"
On completion, your balance will be updated with purchased SMS units.
Finally, you can start sending Bulk SMS on the go!
Want to be a RESELLER call +2348098762105!